Our Fresh Kitchen
Stop by our kitchen for a delicious meal or snack. Everything is homemade and healthy! We have indoor or patio seating available if you'd like to dine here, or order something to go. Don't forget to check our daily blackboard specials! Wi-Fi available.
Please feel free to browse our Lunch/Dinner menu below.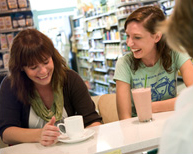 CLICK HERE TO OPEN MENU in a PDF FILE->Lunch / Dinner Menu  *CALL 843-448-0011 EXT 2 
We Proudly Serve:
Nitrate & antibiotic-free boneless chicken breast
Homemade Dressings
Egg-free, dairy-free veganaise mayo
Specialty breads and tortillas
Savory Soups & Salads
Our soups include Veggie Chili, Hearty Lentil, Chicken & Dumpling, and many more!
Try our Organic Mixed Green Salad, Housemade Tuna Salad, Curry Chicken Salad, Hummus, etc!
Tasty Sandwiches & Burgers
"Fakin" Bacon Lettuce &Tomato, Housemade Pimento Cheese,Hummus & Veggie Wrap, Veggie Burger and much more!
Signature Smoothies
Nothing's better than a refreshing smoothie, made to order with ingredients like soymilk, almond milk, fresh, organic, fruit, Enchinacea, Vitamin B-12, protein powder and more!
Quiches, Pies & Fresh Juices Too!